Panagiotis Papagiannopoulos, Orthopedic Surgeon
With years of specialized experience abroad (paid Senior Consultant in an orthopaedic clinic in Germany) and providing high quality services, we treat a wide range of orthopedic conditions. With the overall musculoskeletal health of patients in mind, we provide specialized care and modern techniques that aim for optimal rehabilitation.
Orthopedic Clinic
Papagiannopoulos
Centering on human, the Orthopedic Clinic "Papagiannopoulos" provides specialized medical care and orthopedic services emphasizing on disease prevention and treatment. We focus on our aims and enhance our services with the main ambition to ensure health and welfare.
Make an appointment today!
We treat the full range of conditions, even the most complex ones, with the latest techniques. We specialize in techniques such as: knee arthroscopy, shoulder arthroscopy, (MIS) knee arthroplasty, (MIS) hip arthroplasty, hip fracture treatment, hip arthroscopy, osteosynthesis of upper and lower limb fractures using modern techniques and many more.
MIS hip arthroplasty and Classic
Total hip arthroplasty is a common orthopaedic procedure, which is performed to replace damaged or worn hip joints. The standard approach to hip arthroplasty uses a long incision to access the joint surfaces. Minimally invasive hip arthroplasty is a variation of this approach, and can be performed with one or two shorter values and a less invasive technique.
MIS knee arthroplasty and classic
Knee arthroplasty is the surgery replacing the knee that has suffered chronic damage due to knee osteoarthritis. The traditional and most widely used approach is based on a large vertical skin incision in the center of the knee. In contrast, in minimally invasive knee arthroplasty (M.I.S.), the orthopaedic surgeon uses a smaller skin incision and a less invasive technique to reduce postoperative pain and patient's recovery time.s
Shoulder Arthroscopy
Shoulder arthroscopy is a minimally invasive surgical procedure that treats a large number of shoulder conditions. The surgeon using a small camera (arthroscope) inserted through a small incision will examine the area around and above the joint, i.e. tissues, cartilage, bones, tendons and ligaments. Arthroscopic tools are inserted through one to three smaller incisions and the process of correcting damage to muscles, tendons or cartilage begins.
Knee arthroscopy
Knee arthroscopy is a minimally invasive surgical procedure that treats a large number of knee conditions. Arthroscopy has almost completely replaced traditional arthrotomy, one of the most common orthopaedic procedures. Using specialized tools and a small camera, called an arthroscope, surgeons can visualize and operate on the joint with minimal disruption to the surrounding tissues.
Intra-articular injections
Intra-articular injections are an innovative and non-invasive method for treating pain and various symptoms. They are most commonly - but not exclusively - used in joints that are subjected to greater daily stress, such as knees and shoulders. Intra-articular injections include substances such as PRP (platelet-rich plasma), stem cells and cortisone. They are safe and relatively simple procedures, with minimal risks of complications or side effects.
Based on our customers' review
Papagiannopoulos Panagiotis MD, MSc, F.E.B.O.T. is an Orthopedic Surgeon and maintains a private practice in Piraeus. He is a graduate of the School of Medicine of the National and Kapodistrian University of Athens and holds a Master's Degree (MSc) in Health Unit Management from the Hellenic Open University. In addition, he has received the title of Fellow of the E.B.O.T. (European Society of Orthopedics & Traumatology) following examinations by the European Federation of National Societies of Orthopedics & Traumatology (E.F.O.R.T.) He has many years of experience also abroad, having served as Consultant of the Orthopedic Clinic Vitos Clinic Kassel of Germany and is now Consultant of the Clinic of Sports Injuries and Minimally Invasive Orthopedic Surgery at IASO Amarousiou. He worked as Consultant of the Clinic of Endoscopic and Minimally Invasive Spine Surgery (MISS) of Metropolitan General from April 2018 to September 2019. He is a Scientist Partner of the "Iaso Children's" Orthopedic Clinic as well as the Athens Medical Center (P. Faliro and Peristeri Clinics). He maintains a practice in the center of Piraeus (on Terpsithea Square). He has published scientific work in international journals, has presented papers at Greek and International Conferences of Orthopedic interest as well as being a member of organizational committees of Orthopedic conferences. He is certified in the field of sports injuries by FIFA (FIFA Diploma in Football Medicine).
The orthopedic clinic of Panagiotis Papagiannopoulos is located in Piraeus, at 5 Paleologou Street. The office is accessible for all patients, even for people with reduced mobility. In our modern and welcoming space we examine a variety of orthopedic cases daily, providing the best solutions for complete and effective rehabilitation. The doctor's office has all the necessary technological equipment to treat even the most difficult cases.
Common musculoskeletal problems we treat:
Our clinic provides excellent orthopedic care, adjusted to your needs. The orthopedic surgeon provides personalized care services and treatments combining experience, precision and understanding.
Sports injuries are caused during sports activities due to excessive exercise. They include sprains, fractures in the knee area, ruptured cruciate ligaments, carpal tunnel syndrome and injuries from intense muscle strain. Their treatment includes medication, regular pain monitoring and sometimes surgery.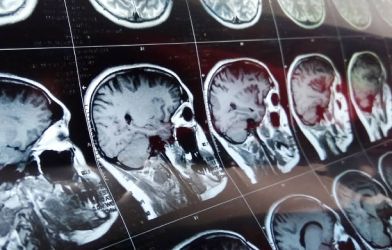 Head injuries include trauma to the skull and brain. Cervical spine conditions, scoliosis and spinal fractures can also contribute to these injuries. The evaluation and management of head injuries include assessing symptoms, performing neurological examinations, and coordinating with neurologists or neurosurgeons.
They include damage to bones, muscles, tendons, ligaments or nerves. Some conditions are carpal tunnel syndrome, ejected finger and wrist ganglion, wrist, and fingertip fractures. Immobilization, medication, regular pain monitoring and/or surgery are the most common forms of treatment.
"My goal, with the immediate rehabilitation of the patient in mind, is the personalized approach and the provision of modern and high quality orthopedic surgery treatments"